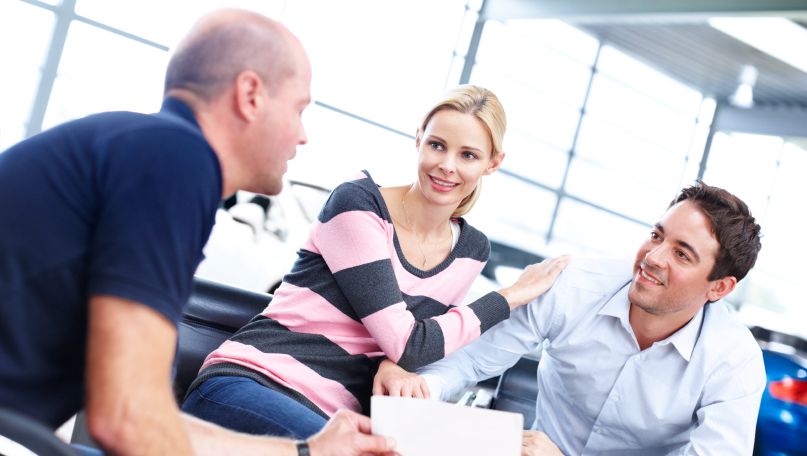 If you've been putting off selling your car because of all the hassle, we've got great news for you here at Pohanka Volkswagen. We can take your old set of wheels off your hands for a fair price! Instead of taking on all the stress of selling a vehicle to a third-party that you don't know, you can deal with the professional team here at our dealership. To further convince you that we're the right choice, read below to see three great reason to sell us your ride.
Seamless Experience
Consider for a moment everything that's required to put your vehicle on the market. You'll need to take interior and exterior photos, find a reputable place to put an ad out, write a summary about the condition of your car, and then give your contact information to a bunch of strangers. And that's the easiest part of the process because afterwards you'll have to meet with people you don't know and haggle on price with no guarantee that they'll buy it. Don't put yourself in this situation! For a seamless experience that will take less than an afternoon, head on over to our dealership where our associates will get right to work.
We're Beholden to You
When you choose to do business with someone you don't know, it's hard to put any amount of trust in them. Their reputation isn't on the line, so you might have to deal with individuals who are rude or who will aggressively negotiate the price of your vehicle down. The car-selling process is already hard enough, but it can always be made worse with an unruly customer. You won't have to worry about that when you come into Pohanka Volkswagen. Our reputation is important to us and we have to uphold it if we want to continue maintaining our trusted standing in the community. On top of that, we have a long list of prior clients that have left glowing reviews on our website.
Trade Your Ride in for a New One
Another reason you should consider selling your ride to us is because you can apply what we give you towards the price of a new one on our lot. That's right! You can drive onto our lot in your old vehicle and then exit our dealership in a factory-fresh Volkswagen all in the same afternoon! If this sounds like what you're interested in, use the Value Your Trade tool under the Finance tab of our website. Just fill in the blanks and you'll get an estimate of what we can off you for your car. It's that easy. Contact us at 240-455-4487 if you have any questions.
Now that you know three reasons to sell you car to Pohanka Volkswagen, we hope to see you in our dealership soon. Get the process started at 1720 Ritchie Station Court in Capital Heights, MD.
Testimonials
GOOGLE
7-1-2020
GOOGLE
7-1-2020
GOOGLE
6-26-2020
GOOGLE
6-24-2020
GOOGLE
6-22-2020
GOOGLE
6-20-2020
GOOGLE
6-18-2020
YAHOO
6-17-2020
YELP
6-17-2020
GOOGLE
6-16-2020
GOOGLE
6-15-2020
GOOGLE
6-15-2020
GOOGLE
6-13-2020
GOOGLE
6-12-2020
GOOGLE
6-12-2020
GOOGLE
6-12-2020
GOOGLE
6-11-2020
GOOGLE
6-11-2020
GOOGLE
6-10-2020
GOOGLE
6-9-2020
GOOGLE
6-9-2020
GOOGLE
6-8-2020
GOOGLE
6-8-2020
GOOGLE
6-8-2020
GOOGLE
6-8-2020
YELP
6-8-2020
GOOGLE
6-7-2020
GOOGLE
6-6-2020
GOOGLE
6-6-2020
GOOGLE
6-5-2020
GOOGLE
6-5-2020
GOOGLE
6-5-2020
GOOGLE
6-5-2020
GOOGLE
6-5-2020
GOOGLE
6-5-2020
GOOGLE
6-5-2020
GOOGLE
6-5-2020
GOOGLE
6-5-2020
GOOGLE
6-5-2020
GOOGLE
6-5-2020
GOOGLE
6-5-2020
GOOGLE
6-5-2020
GOOGLE
6-5-2020
GOOGLE
6-5-2020
GOOGLE
6-5-2020
GOOGLE
6-5-2020
Read More
Sales Hours
240-312-2783
| | |
| --- | --- |
| Monday | 9:00 am - 7:00 pm |
| Tuesday | 9:00 am - 7:00 pm |
| Wednesday | 9:00 am - 7:00 pm |
| Thursday | 9:00 am - 7:00 pm |
| Friday | 9:00 am - 7:00 pm |
| Saturday | 9:00 am - 7:00 pm |
| Sunday | 11:00 am - 5:00 pm |