2015 Volkswagen Golf for Sale in Maryland

When you think of golf you may think of Rory McIlroy, crazy pants or shooting for par. There is another golf, though, that is much more exciting than the sport--a sporty car. Pohanka Volkswagen has an amazing selection of 2015 Volkswagen Golfs for sale in Maryland.
The mechanics of golf come into play in much the same as the equipment of this hatchback. This puppy is loaded with an inline 4-Cylinder 1.8L engine. It also houses a 5-Speed Manual transmission--all the better to truly control your driving experience. A manual transmission generally means amazing gas mileage, and boy does it pack a fuel saving punch. Clocking in at 26 MPG City and 37 MPG Highway*, this regular fuel sipping machine will make both you and your wallet happy. Please speak with a sales associate, as fuel economy may vary by trim level.
A golfer is nothing without his clubs, just as a car is nothing without features. Not to worry, the 2015 Golf is packed to the brim with fun, convenient equipment. Cars are meant for driving, so why not make the seats as comfortable as possible? Volkswagen understands that not everyone is the same height, which is why the driver and passenger seats are height-adjustable. Lower back support is also extremely important in terms of comfort, so both front row seats have lumbar adjustment. The cabin itself is as important as the seats. An interior air filter has been installed into all Golfs to help reduce the amount of dirt, dust and pollen in the vehicle. Other fantastic convenience specs include a compass, remote keyless power door locks and 2 one-touch power windows!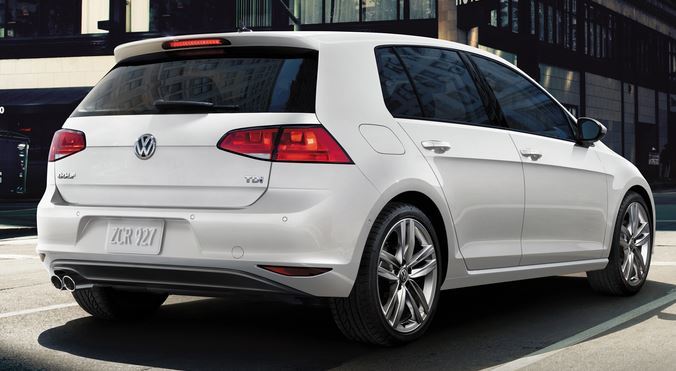 The 2015 Volkswagen Golf is loaded with safety specs, much like golfers stretch prior to playing--both are necessary for the safety of human beings. An impressive amount of airbags surround passengers, but an even more useful technology disengages airbags if there is not an occupant in a particular seat, thus reducing unnecessary deployment. In the back row the middle seat is outfitted with both a headrest and a center 3-point seatbelt, something that many vehicles cannot boast! Traction control, stability control and emergency braking assist all aid the driver in sticky driver situations. Children are an integral part of vehicle safety, which is why the Volkswagen Golf has features geared specifically towards those tiny passengers. The LATCH system allows for car seats to be attached directly to the frame of the car. Child safety locks have also been implemented in all rear doors.
The 2015 Volkswagen Golf is for sale in Maryland at Pohanka Volkswagen. Stop by today and test drive your next car today!